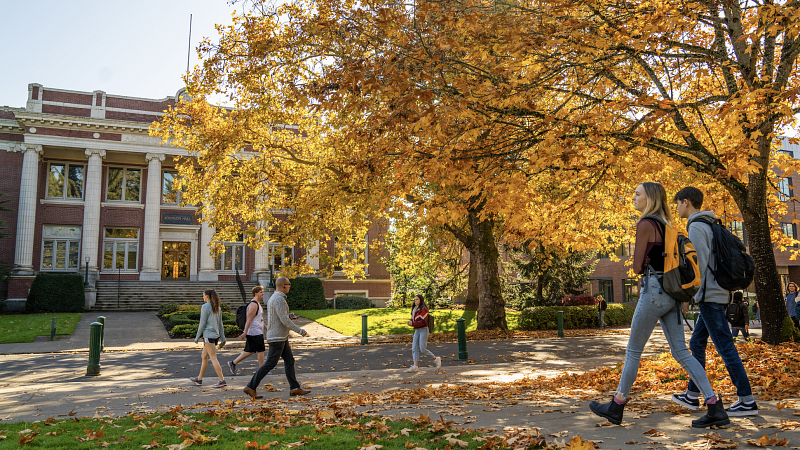 We're Hiring
 
Explore available positions that are part of an 11-position cluster hire. This hiring effort reflects the UO's commitment to investing in transdisciplinary research and teaching in climate solutions and environmental justice.
We are working towards a just and livable future.
ARCHITECTURE: Architectural Determinants of Health
The Department of Architecture seeks a scholar who can translate and build connections between the iterative design process and multiple modes of scientific inquiry to better characterize mechanistic relationships between the design of the built environment and the health and wellness of human and non-human species.
ARCHITECTURE: Ecological Housing/Social Justice
The Department of Architecture is in critical need of a new faculty member in the area of housing design and construction with a focus on teaching, research, and community engagement, who will work across disciplines at the leading edge of ecological sustainability, social justice and the future of housing. 
CHEMISTRY: Environmental Materials Chemistry
The Department of Chemistry and Biochemistry announces a search in the area of Environmental Materials Chemistry, broadly defined (spanning both computation and experimental work, energy, etc.).
EARTH SCIENCES: Hazards and Extreme Events
The Department of Earth Sciences seeks a geoscientist to study the impacts of natural hazards and extreme events related to climate change on the solid earth, hydrosphere, cryosphere, and biosphere.
ENVIRONMENTAL STUDIES: Natural Sciences
The Environmental Studies Program seeks an interdisciplinary environmental natural scientist with expertise focused on climate change related challenges such as land-use or ecosystem change, wildfire, water resources and drought, and extreme weather.
ENVIRONMENTAL STUDIES: Social Sciences
The Environmental Studies Program seeks an interdisciplinary environmental social scientist with expertise in climate change mitigation and adaptation focused on social, political and/or economic solutions for climatically-vulnerable populations.
GEOGRAPHY: Climate and Sustainability
The Department of Geography seeks an assistant professor in the area of climate change impacts on natural and human systems who uses quantitative approaches at landscape to regional scales and will conduct interdisciplinary research to address challenges in sustainability and climate adaptation.
LANDSCAPE ARCHITECTURE: Climate Change Resilience
This faculty member will specialize in technical design and craftsmanship of landscapes that are resilient to climate change-induced sea level rise, storm surges, flooding; and/or planting and ecological designs resilient to droughts, wildfire and/or water shortages. Innovative solutions to these problems are being aggressively sought, funded, and built around the world at an accelerating rate.
LANDSCAPE ARCHITECTURE: Urban Ecological Justice
This faculty member will specialize in the technical design of urban environments that address social and economic disparities.
POLITICAL SCIENCE: US Environmental Justice and Politics
The Department of Political Science invites applications for a tenure-track position of Assistant Professor in Political Science—with a focus on U.S. environmental politics and social justice.
SOCIOLOGY: Environmental Justice
The Department of Sociology aims to hire a sociologist with expertise in environmental inequality and/or justice. 
Learn More about the Job Opportunities
The University of Oregon is an equal opportunity, affirmative action institution committed to cultural diversity and compliance with the ADA. The University encourages all qualified individuals to apply, and does not discriminate on the basis of any protected status, including veteran disability status.