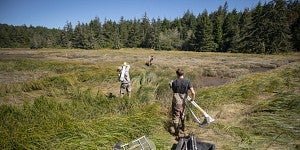 Faculty in the Field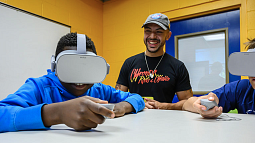 Danny Pimentel
Pimentel is the Environment Initiative Faculty Fellow for 2022-23. His work in virtual reality seeks to make a global problem like climate change into something you can experience on a personal level.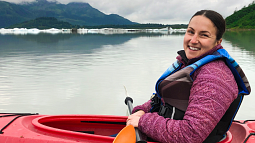 Hollie Smith
Focusing on natural hazards in the Pacific Northwest, Dr. Hollie Smith is on a mission to make complex science useful to society through researching the role communication plays in how people understand, discuss and respond to environmental crises.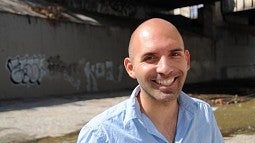 John Arroyo
As the first Faculty Fellow for the Environment Initiative, John Arroyo will bring his experience in inclusive urban design, race and ethnic studies and climate justice to bear on furthering equity-oriented environmental research.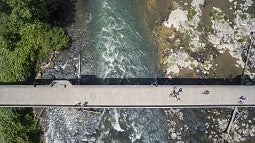 Alaí Reyes-Santos
Water justice, environmental justice and Afro-Indigenous healing traditions are just a few of the areas of study and advocacy for Associate Director of the Pacific Northwest Just Futures Institute Alaí Reyes-Santos.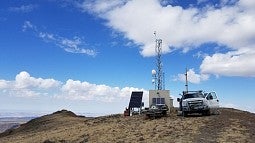 The Oregon Hazards Lab
Led by Doug Toomey, the Oregon Hazards Lab uses science, technology, and community engagement to understand, monitor, and mitigate multi-hazards within the Pacific Northwest.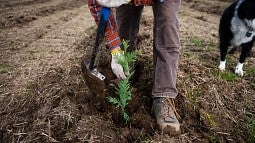 Soil Plant Atmosphere Lab
Lucas Silva and his team of researchers are using NSF funding to study relative carbon sequestration of trees and shrubs in partnership with EWEB on its property in Thurston. 

Oregon's Resilience
In Spring 2019, the Office of the Vice President for Research and Innovation (OVPRI) launched the Resilience Initiative to encourage faculty research across disciplines related to the environment and sustainability.   This OVPRI-sponsored seed funding program supported a creative approach to transdisciplinary collaboration grounded in principles of ethical leadership and social and environmental justice.
Awards and Recognitions
Our students, staff, and faculty develop concrete strategies, creative practices, and analytical availabilities to combat our environmental issues. Their research has been awarded on campus and away, and displays the UO's commitment to approaching environmentalism from many lenses.
Twelve current, former, and future Ducks have received 2018 graduate research fellowships from the National Science Foundation.
 A $4.52 million grant from The Andrew W. Mellon Foundation will support a research platform for racial and climate justice. It is the largest humanities award in UO history.
Carey's 20 years of research in a region of South America strongly affected by glaciers have elevated him into international mountaineering fame.
Interdisciplinary Centers, Institutes, and Programs