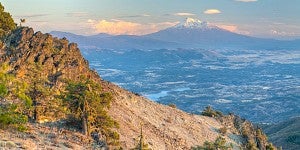 Center for Environmetal Futures
The Center for Environmental Futures (CEF) is an interdisciplinary group of faculty and students that reflects a longstanding investment in environmentalism and social justice at the University of Oregon and in the larger Eugene community. 
Its mission is to encourage faculty and students in interdisciplinary environmental studies research and teaching, to encourage and support members of the community to participate in the University's environmental studies programming and problem-solving, and to cultivate relationships and build projects to address our most pressing environmental and social problems. 
"Project Storytellers" is one such project. Since 2017, CEF has been engaging Oregonians from around the state in conversations around the understanding and experience of Oregon's public lands. Here is a peek into four of the 51 stories that have been shared with the CEF team.

Diane Daggett is a fourth-generation rancher in Wallowa County and the founding director of Wallowa Resources. Her great-great-grandfather arrived with the second wagon train into Wallowa County, two years after Chief Joseph and his band of Nez Perce were forcibly removed from the Wallowa Valley after a long period of resistance.
In the 1990s, Daggett became the planning director for Wallowa County, Oregon, and later the founding director of Wallowa Resources. When listing for the Snake River chinook salmon was proposed, the community was in an uproar. Some suggested they should follow the lead of the people of Nye County, Nevada, where they famously opposed any federal oversight of public lands. Here, Daggett describes the collaboration process.

Diane Teeman is Tribal Archeologist and Culture and Heritage Director of the Burns Paiute Tribe. The Tribe's name for itself is the Wadatika, a name meaning "eaters of wada seed," indicating their millennia-long history of food gathering along the shores of what is now known as Malheur Lake, between the Cascade Range in Central Oregon and the Boise valley of Idaho, northward to the Blue Mountains, and southward to northern Nevada. Teeman is a scholar with a graduate degree in anthropology, but she also emphasizes the ways that knowledge comes to her from intergenerational relationships with tribal members whose expertise developed through deep historical connections to the Wadatika's territories.
Here Teeman describes how her archeological training works side by side with experiential and inherited knowledge of Wadatika lands.

Jack Southworth is a rancher in Harney County, Oregon, and a founder of the High Desert Partnership. His great grandfather homesteaded in Oregon in 1885.
By the early 1980s, the land his family had ranched for three generations was eroding due to decisions made by his grandfather and father—eliminating beavers, willows, and fences, and giving their cattle unfettered access to rangelands. Cattle prices were going down, and interest rates were going up. Here, Southworth describes how he and his wife, Theresa, were heavily in debt, on the verge of bankruptcy.

Autumn Larkin is the Assistant District Wildlife Biologist at the Oregon Department of Fish and Wildlife (ODFW) in Harney County, Oregon. Born in Detroit, she grew up longing for the solitude and wide-open grasslands that she would eventually find in southeastern Oregon. As she has grown closer to the community and the lands she serves, she has trained herself to be an expert bow-hunter.
Here Larkins talks about the relationship between her duties at the ODFW, which involve wildlife population management—including the issuing and regulation of permits to hunters, and her off-the-job vocation as a bowhunter on public lands.