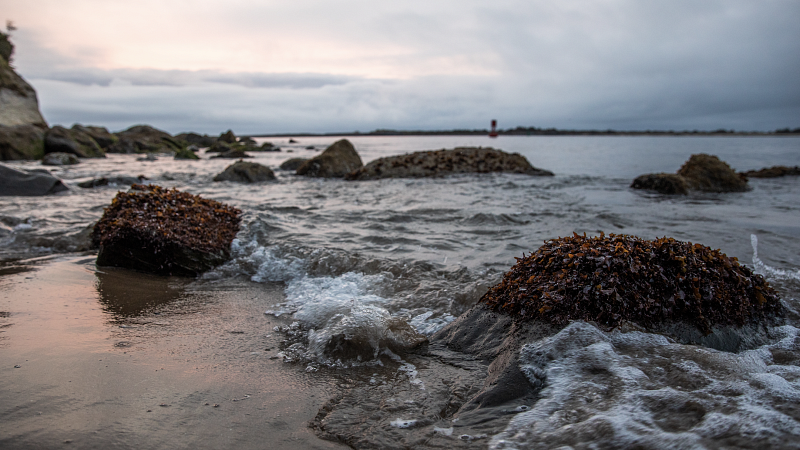 Creative Research, Curriculum Approaches Garner Awards
The Environment Initiative's first funding cycle highlights virtual learning, leadership, elevating minoritized voices, and sustainability.
June 6, 2022
The Environment Initiative Seed Funding Program, which was established this year to support both research and curricular projects, focuses the intellectual energy and work of faculty, students and community partners on a just and livable future through transdisciplinary research, teaching and experiential learning.
The first round of funding is supporting one Research Award and five Curriculum Awards.
"I am thrilled we have awards like this to recognize and support the innovative work of our faculty," said Patrick Phillips, provost and senior vice president at the University of Oregon. "The activities selected this round really enhance the university's goal of preparing our students with timely and real-world experiences."
This seed funding program is also significant in creating alignment between our research, teaching, and public engagement endeavors. "This program was our first effort at calling for, and evaluating, proposals across research and curriculum," said Adell Amos, Executive Director of the Environment Initiative.  "I am excited by the synergies that have emerged particularly with regard to the potential for community connections."
Virtual Excursions for Science Learning
Danny Pimentel and Kelly Sutherland's Virtual Excursions for Science Learning (VESL) proposal was selected for the Research Award. The Environment Initiative seed funding will kickstart research focused on immersive, virtual reality (VR) learning experiences capable of increasing ocean science literacy, interest in STEM careers and promote environmental attitudes among underrepresented learners.
VESL will be a fully functional VR simulation that enables users to embark on virtual excursions with diverse scientists and engage in marine biology and maritime archeology research. Pimentel, Sutherland and their research partners will test the efficacy of VESL on key outcomes (such as attitudes and views of science) among users in informal learning contexts (this includes places like museums). They hope the project will clarify the psychological mechanisms through which experiences like VESL influence human perceptions of self and science.
"For students of all ages, access to experiential learning is limited and scientific expeditions are all but an impossibility," Pimentel said. "With VESL, we hope to reduce these barriers with a scalable solution where students embark on seemingly realistic expeditions that are equal parts fun and educational."
Pimentel is an assistant professor of immersive media psychology. His research explores the prosocial implications of immersive storytelling. Sutherland is an associate professor of biology and director of the Sutherland Lab. Her ocean science research focuses on interactions between marine organisms and the physical environment. Kelly's projects engage scientists, journalists, and artists to create communication products that engage diverse communities with science.
Their collaborators are Troy Elias, associate professor and director of the advertising program; Shane Burrell, a doctoral student in game studies; Karen Stritzinger of Old Hara Studios; and Justin Dunnavant, an assistant professor of anthropology at UCLA.
Teaching Environmental Leadership, Indigenous Knowledge, Decarbonization Analysis, Environmental Education, and Climate Equity Rules
For the upcoming academic year, the Environment Initiative seed funding program provided  five curricular awards. Each award supports faculty to develop innovative courses and dynamic classroom experiences.
Broadening Experiential Learning through the Environmental Leadership Program
Since 2001, the Environmental Leadership Program has developed and implemented more than 100 experiential field-based projects that have served nearly 900 undergraduate students, 120 graduate students and more than 50 community partners. The program's mission has been to develop the leadership, communication and collaboration skills of undergraduate students by creating hands-on learning opportunities that respond to environmental challenges in the community. With the seed funding, Kathryn Lynch and Peg Boulay, co-directors of the Environmental Leadership Program, plan to develop a strategic plan and dig into how to amplify BIPOC voices more effectively in the program.
Indigenous Knowledge Keepers Curriculum Development
Led by Theresa May, professor of Theatre Arts and Jennifer O'Neal, assistant professor of Indigenous, Race and Ethnicity Studies, this project will update two existing courses and develop three new courses in Native Studies and Theatre Arts in collaboration with Indigenous elders, knowledge keepers and culture bearers.  The multidisciplinary project honors tribal sovereignty and promotes experimental learning for a just and livable future by expanding on decade-long efforts to include Indigenous ways of knowing consistently and responsibly in student learning experiences. In addition, the faculty will create guidelines and protocol for researching and engaging with tribal communities, as well as lead a workshop for researchers interested in working with tribal communities directly.
Technoeconomic Analyses for Decarbonization
Paul Kempler, associate director of the Oregon Center for Electrochemistry and Joshua Skov, senior instructor of management will design a new course  combining the scientific and business principles needed to evaluate the impacts of new technologies for energy and decarbonization. This course will be offered in Spring 2023 to graduate students in the chemistry department and the business school who are pursuing careers supporting the future decarbonized economy. The collaboration combines financial expertise from the Lundquist College of Business with technological expertise from the Oregon Center for Electrochemistry to provide training in technoeconomic modeling used to evaluate proposed solutions for decarbonization.
Building Environmental Education Infrastructure at the UO
This award funds a  proposal by Sarah Stapleton, assistant professor in the Education Studies Department of the College of Education and Kathryn Lynch, ELP Instructor, Environmental Studies Program to explore the potential for Environmental Education (EE) and integrate efforts into coherent and visible programs, research, and outreach that will shape the university's identity as a leading sustainable institution. Building from an existing network of programs, courses, community partnerships and practitioners, the researchers will collect data and research a strategic plan toward making the UO a national leader in EE, attracting new students from undergraduate to graduate, new funding and new recognition to the university.
Oregon Students Helping Oregon Communities Address Climate, Equity and Affordability
Led by Marc Schlossberg and Nico Larco, co-directors of the Sustainable Cities Institute, this funding will help recalibrate and focus the UO's innovative Sustainable City Year Program to support new statewide 'Climate Friendly and Equitable Community' rules, build a long-term partnership (and funding) with Oregon's Department of Land Conservation and Development, help Oregon communities accelerate their environmental and equity practices and train the next generation workforce and faculty in this vital new public policy sphere.
"The awarded proposals demonstrate the creative approaches UO faculty are taking to address environmental challenges and to train the next generation of people who will take action to counteract the climate crisis," said Cass Moseley, interim vice president for research and innovation.
— By Kelley Christensen, Office of the Vice President for Research and Innovation, and Emmily Bristol, Strategic Communications