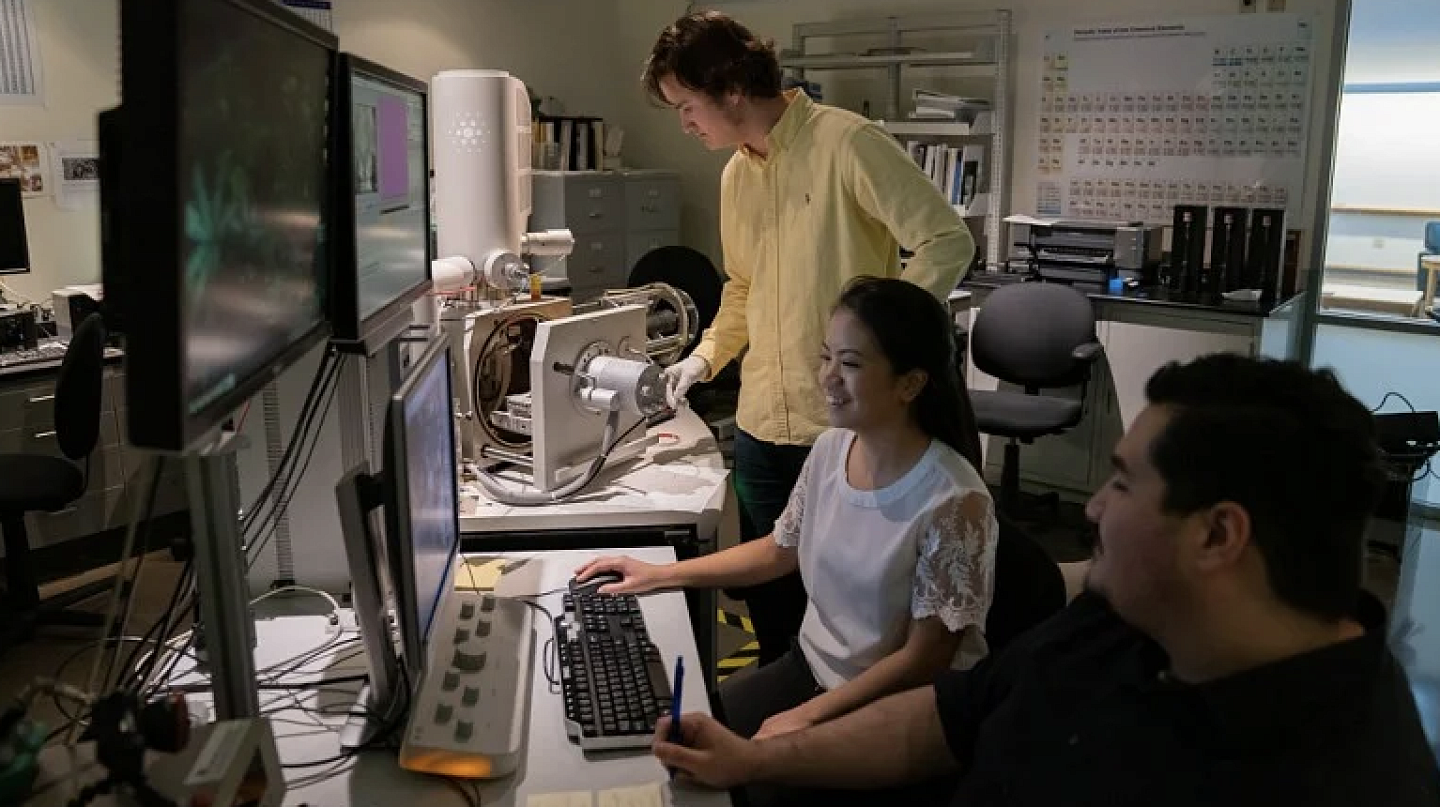 The UO's focus on building better batteries, green energy and other sustainable solutions to help the environment
The University of Oregon's focus on innovative environmental solutions in green energy has lead researchers to make advances in the field of electrochemistry.
At the Oregon Center for Electrochemistry (OCE), UO faculty and students research how energy is converted, stored, and transported. Their groundbreaking discoveries are moving the needle for sustainable energy. So are the successful OCE alumni who go on to work in science and industry.
"Energy is central to everything we do," says OCE Founding Director Shannon Boettcher, a UO alumnus and professor in the Department of Chemistry and Biochemistry. "Electrochemistry is the key to developing a sustainable economy, reducing carbon in our atmosphere, and mitigating climate change."
Lean, green, and innovative, the OCE launched in 2019. Thanks to a $5 million gift from Gordon and Betty Moore, its future looks bright. Gordon Moore is cofounder of Intel Corporation.
The Moores' gift is like an investment in a startup, Boettcher says. But rather than a business, they've provided seed funding for a center of discovery, learning, and innovation led by a collaborative team of UO faculty from diverse disciplines.
That team is tackling important science problems, translating discoveries into patents, startups, and commercial products. In OCE's laboratories in the spacious, daylit top floor of the Lewis Integrative Science Building, UO scientists search for solutions that will make green renewable energy work—and help industries operate more sustainably.
Electrochemistry researchers study the relationships between chemical change and electricity. They explore how to make better batteries (and reuse and recycle them). They also research devices that convert electric energy into green hydrogen that could fuel trucks, ships, and planes—and produce sustainable chemicals, products, and fertilizers.
Boettcher and his colleagues are making the UO an international resource and leader in this field. Based on the growing reputation of the OCE and the success of graduates, they're off to a great start. Ultimately, Boettcher hopes, it will all add up to widespread change—in our economy, industry, policy, and technology—that stops climate change in its tracks.
"People won't give up energy, so we need new ways to generate, store, and distribute it. And we can't wait. Making alternative energy work is the only way to solve climate change without crashing civilization."