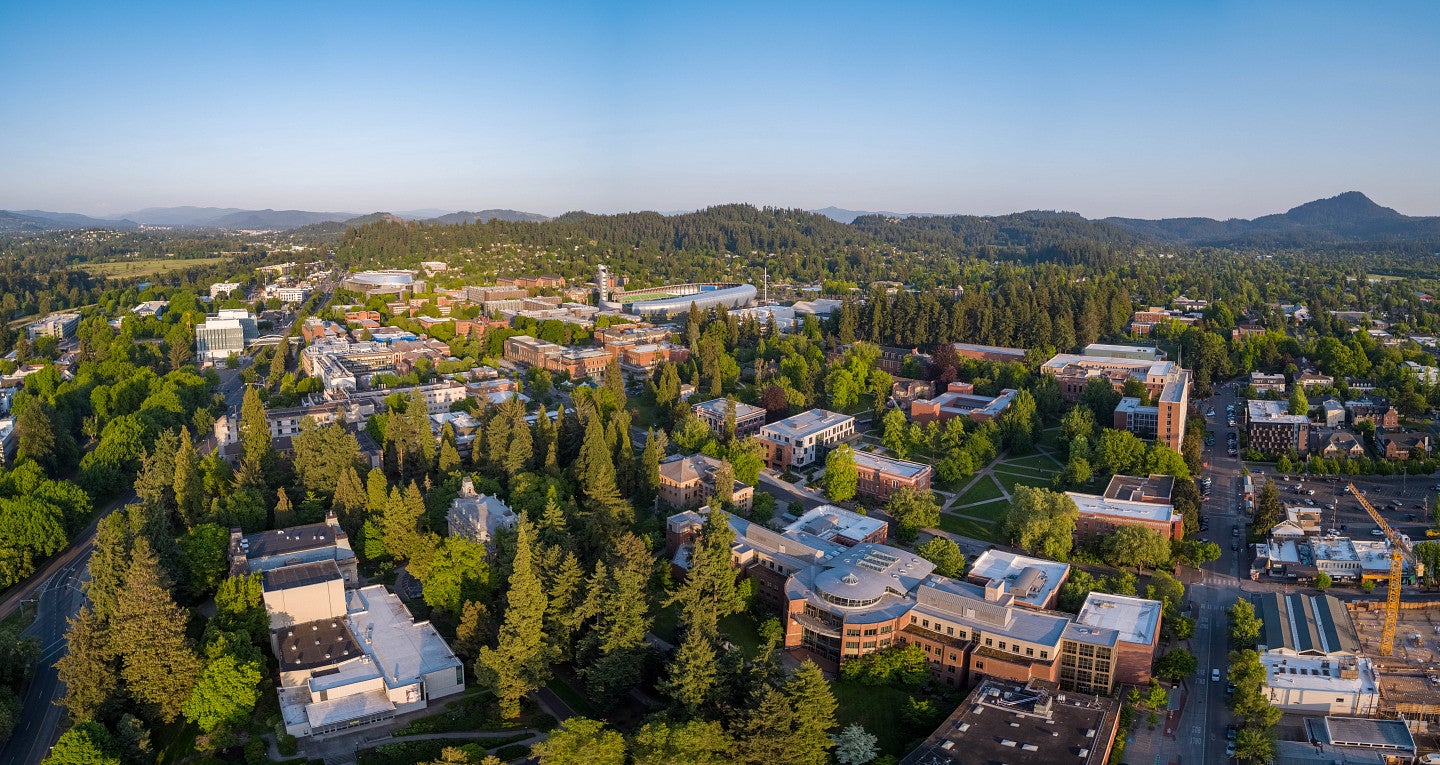 July 19, 2023
Two new transdisciplinary research projects at the UO have each been awarded grants worth up to $50,000 through the Incubating Interdisciplinary Initiatives (I3) Award Program.
I3 awards, supported by the Environment Initiative in partnership with the Office of the Vice President for Research and Innovation, are given each year to selected projects to advance work across disciplinary intersections and issue-areas that have often been overlooked or underprioritized. 
In the 2023 cycle, I3 awards will kickstart these two interdisciplinary endeavors with high potential for community impact (three other projects that received I3 awards were previously announced):
The first project, called "Developing Augmented Reality-based Visualization Tools to Increase Sustainable Transportation," brings together two areas of UO expertise — immersive science communication and city planning — and aims to creatively re-design urban infrastructure. 
The project will be co-developed by Danny Pimentel assistant professor of immersive media psychology in the School of Journalism and Communication in Portland, and Marc Schlossberg professor of city and regional planning in the School of Planning, Public Policy and Management.
Pimentel and Schlossberg will lead a team in developing customizable, real-time, augmented reality tools for street re-designs that can help cities reduce carbon emissions and transition to a more just and inclusive urban form. By helping to reduce car dependency in cities, the project will also work explicitly to enhance societal-scaled diversity, equity, and inclusion.
For example, imagine Franklin Boulevard in Eugene transformed to support car-free transportation, or reduced from six travel lanes to two with 12-foot-wide protected bike lanes or 10-foot-wide accessible sidewalks.
The project will not only produce new research and knowledge of sustainable street transformations, it will also address the challenge of translating this scholarship into practice by giving the public access to tools to imagine the kind of practical re-designing necessary for securing a more just and livable future.
The second project, called the "Indigenous Data Sovereignty Research Center," will serve as a hub for transdisciplinary and collaborative research focused on transforming institutional practices and frameworks to honor tribal sovereignty through data justice — an concept that refers to fairness in the way people are made visible, represented, and treated as a result of their production of information.
Specifically, the effort — directly tied to tribal nations in the Pacific Northwest — will work to uphold the rights of Indigenous nations and communities to control data about their peoples, lands, waters, and resources. 
The project was conceived and will be led by Jennifer O'Neal, assistant professor of Indigenous, Race, and Ethnic Studies, in partnership with Kirby Brown, associate professor of English and director of Native American and Indigenous Studies and Ashley Cordes, assistant professor of English and environmental studies, and with support from educators and research stakeholders from across the university.
The new center will engage tribal rights holders and institutional stakeholders through research, education, and advocacy to understand barriers to and opportunities for change. This work includes reworking institutional relationships with indigenous communities by supporting cross-campus engagement in respectful, reciprocal, and sovereignty-affirming partnerships with state, regional, and national tribal peoples. The center will develop courses, training, and programming to guide institutions and researchers through this relationship- and trust-building.
The center will bring together researchers from Native American and Indigenous Studies, education, history, English, political science, law, environmental studies, linguistics, and journalism.
The I3 award program encourages interdisciplinary research at UO and is open to faculty members from all academic disciplines. Because I3 is a seed grant, the program puts significant weight on projects that are likely to secure future external funding to continue the research that began with internal funds.