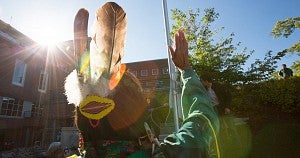 Native Environmental Sovereignty Project
UO Law School's Environmental and Natural Resources Law Center offers interdisciplinary projects in seven substantive areas, including the Native Environmental Sovereignty Project. Student fellows work with faculty members to solve critical environmental problems. Fellows with NESP explore the intersection of tribal sovereignty with the protection of tribal natural resources. 
Maggie Massey
UO Law School graduate
2017-2019 NESP Alumna

"The Native Environmental Sovereignty Project is a collaboration between students and faculty and professors at the law school, coming together to work on issues that are relevant and important in Indian country, particularly around natural resource management issues. I feel like the goal is to create work products that is actually helpful to tribes, beyond academia."
"I pursued a fellowship with NESP because I had been really impressed with NESP even before going to Oregon Law, it was one of the reasons that I decided to go there. Because I was and am really interested in native environmental sovereignty and the ways that tribes can utilize sovereignty to further natural resource management and conservation in a way that is relevant and culturally appropriate. That's a really important part of land management and natural resource management. The tribes have a huge role to play and a lot of knowledge to bear on some of the more pressing issues that we're all facing now, such as climate change. The fact that there was a program that's dedicated to that was really important to me, and it was really special to be a part of that."
"The tribes are the original stewards of all of the land that is now the United States. And there's a deep knowledge base and relationship and understanding there, that has been too often ignored in land management and water management decisions. I think it's always been important to respect and recognize that knowledge, and I feel like there's a growing understanding that it's not enough to just recognize that, but that we must also actively make space for that knowledge, to use and incorporate it into decision making about those resources."
Ana Colwell
UO Law School student
2020-21 NESP Fellow

​​​​​"I chose UO specifically because this school has an outstanding environmental law program. Now that I have had the chance to take an Indian Law class, I see how the topics of environmental and Indian law are so closely related, and I am really excited to expand my environmental law focus to now also include Indian Law. Native American peoples are often on the forefront of environmental fights, whether it is the fight against LNG pipelines like Jordan Cove and Standing Rock, or the enduring fight for clean water and natural resource protection. When I was accepted as a fellow with ENR's Native Environmental Sovereignty Project, I was thrilled, as the fellowship opportunity is tailored to be able to help me focus on both environmental and Indian law."
"I pursued a fellowship with NESP because I want the opportunity to become involved with the people that I hope to eventually work with professionally. Once school is over, I hope to stay in this part of the country and work in environmental and tribal law, and the professors and others at the ENR center are people who know everybody in the legal world that I want to be involved in. I hope it will be a great springboard to start my career."
"With the NESP, I am currently working on a tribal treaty rights issue. The issue concerns Oregon tribes and what legal fights they may bring against the state of Oregon in an effort to protect their salmon and other anadromous fish from state implemented fish run obstacles. I'm excited to see where this project takes me as I am already learning so much through the research of the amazingly complex topic of treaties and the rights associated with the treaty holders."
Howard Arnett
Professor of Practice at UO Law School
NESP Faculty

"We help our fellows identify projects, usually a research project or an academic paper. Hopefully the project benefits Oregon tribes. That's one of the goals of the NESP, to do work – academic work, legal work – that provides benefit to tribes and the exercise of their sovereign governmental powers."
"Tribal law and environmental law coincide in two crucial ways. First, as sovereign governments, tribes can and do regulate all activates within their tribal territories that impact the natural environment. In doing so, tribes exercise their own authority and they also exercise delegated federal authority to set environmental standards and enforce such federal laws as the Clean Water Act, the Clean Air Act and the Safe Drinking Water Act. Second, many tribes in the Pacific Northwest hold 1855 treaty fishing rights that legally require proper environmental management of the fishery habitat outside of tribal lands so as not to damage the fishery resource that is the basis of the treaty right."
"I'm drawn to this work because I like understanding the unusual mix of history, constitutional law, property law, international relations...just a whole bunch of different disciplines. And then once I started practicing the law, living on a reservation, I just found that I really enjoyed the people around me, learning about their culture and languages. I always enjoyed everybody I worked with. Most of them are good friends."