University of Oregon
Campus Sustainability Awards
Beginning in 2015, the University of Oregon launched the Campus Sustainability Awards program to recognize individuals whose contributions deepen our culture of sustainability across a range of institutional activities. We are proud to feature the outstanding nominees for the Student Leadership Awards sponsored by the Student Sustainability Center.
2023 Student Sustainability Awards
 
---
The 2023 award categories and recipients include: 
Student Leadership, Undergraduate Studies
Abigail Gravatt, for multiple contributions made throughout an impressive undergraduate career. The award is sponsored by the Student Sustainability Center. 
Student Leadership, Graduate Studies
Lauren Dorsey, Roses Laughlin, Katie Moreland, and Jaimie Tucker, for founding Student Advocacy and Action for Environmental Justice. The award is sponsored by the Student Sustainability Center.
Town and Gown
Miriam Yousaf, Eloise Navarro, Beyond Toxics, NAACP, Student Sustainability Center, and the Holden Center, for Rise and Leaders collaboration. The award is sponsored by Government and Community Relations. 
Excellence in Teaching
Julie Voelker-Morris, senior instructor II in planning, public policy and management, for excellence in teaching sustainability. The award is sponsored by the Office of the Provost's Teaching Engagement Program.
Sustainable Purchasing
UO Housing Capital Construction, for sustainable purchasing criteria for housing proposal requests, designed in collaboration with students. The award is sponsored by Purchasing and Contracting Services.
Research and Scholarship
Shannon Boettcher and Paul Kempler for leading impactful research through the Oregon Center for Electrochemistry. The award is sponsored by the Office of the Vice President for Research and Innovation. 
Innovation and Impact
Judith Sheine and Mark Fretz, College of Design, for innovating with impact in the built environment. The award is sponsored by the Office of the Vice President for Research and Innovation.
Student Support and Programming
Student Sustainability Center and Physical Education and Recreation for lost-and-found gear and clothing campus free store event. The award is sponsored by the Division of Student Life. 
Sustainable Campus
Location Innovation Lab for multiple projects that increase and showcase campus sustainability both internally and publicly. The award is sponsored by the Office of the Vice President for Finance and Administration. 
Campus Design
Utilities and Energy, for a thermal water tank that will be used to cool campus while increasing resiliency and lowering emissions. The award is sponsored jointly by Campus Planning, and Design and Construction. 
2022 Student Leadership Award
The Student Leadership Award was given to the PNW Just Futures Institute student employees for their excellent, future focused work. These student employees include: Ashia Ajani, Nadya Barba Ramirez, Polet Campos Melchor, Janice Kai Chen, Iliana Land Lundgren, Rachael Sol Lee, Katherine Marple, Jesse Noone, Rose Poton, and Maya Revell.
2021 Student Sustainability Awards
 
---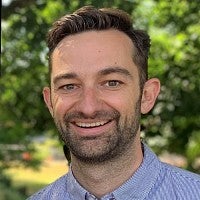 This year, our finalists have demonstrated strong commitments to environmental health and social equity, and it's frankly astonishing what they've been able to accomplish in the world of remote-everything. They reconceptualized city planning, our campus, carbon sequestration, and basic needs services, all in a time when the work got much, much harder.
Taylor McHolm, Ph.D, Program Director, Student Sustainability Center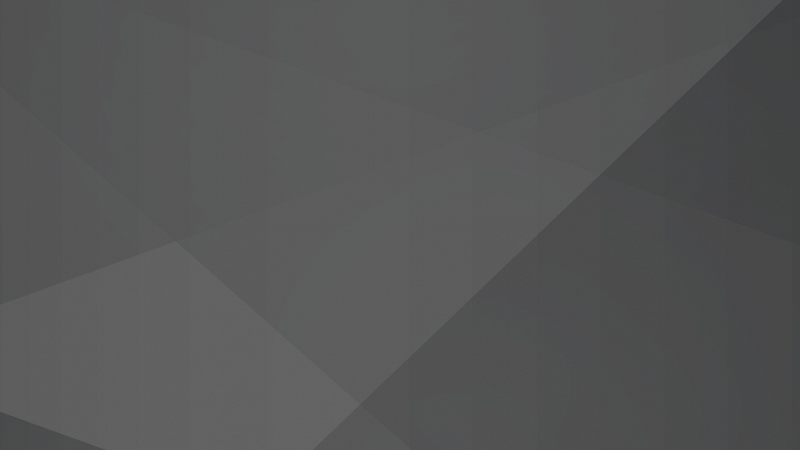 Student Nominees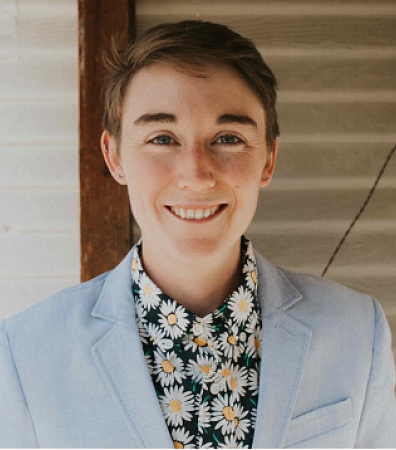 Clare Haley
Public Planning, Policy and Management, Graduate level
Achievements:
Co-leader of the student group Live/Move, which works to reimagine a neighborhood or corridor in the Eugene area
Coauthored the book, "Rethinking Streets During COVID"
Master's capstone project about e-bike lending libraries, with a specific focus on how these lending libraries can be introduced in Oregon communities to provide affordable access to a sustainable mode of transportation whose price tag otherwise bars some from enjoying it
From Clare:
"Transportation planning is incredibly rewarding because it has real, tangible impacts on people's day-to-day lives and there's an amazing community of people working on these issues."
From the Nominators: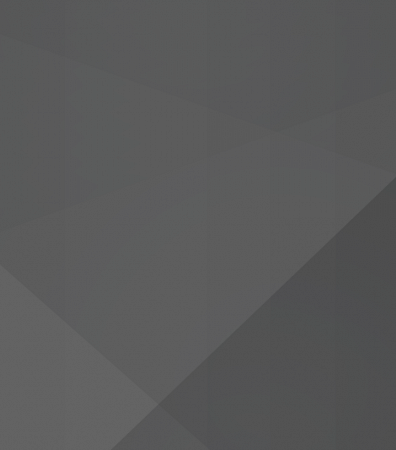 "Clare is amazingly well-rounded. She is exceptionally bright, inquisitive, and asks excellent questions that invariably enrich the discussion at hand. She is open-minded and willing to take on—and excel at—new challenges, topics, and learning new skills."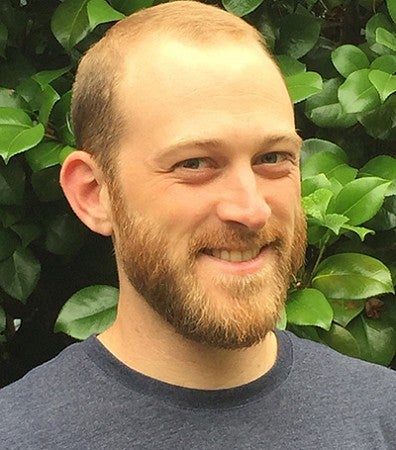 Rob Mellinger
School of Law, Graduate level
Achievements:
Served as a Fellow for the Environmental and Natural Resources Law Center's Global Environmental Democracy Project
Worked with a number of external organizations such as the U.S. District Court of Oregon, Coalition of Oregon Land Trusts and Our Children's Trust
Co-Director of the externally-focused Public Interest Environmental Law Conference
Lead graduate student helping to organize NSF proposals, a NSF funded workshop, and published papers related to Landscape Carbon Sequestration for Atmospheric Recovery
From Rob: 
"Working on projects that create the potential for people to make positive change is most rewarding. I believe that our ongoing research on atmospheric recovery litigation will also inspire action."
From the Nominators: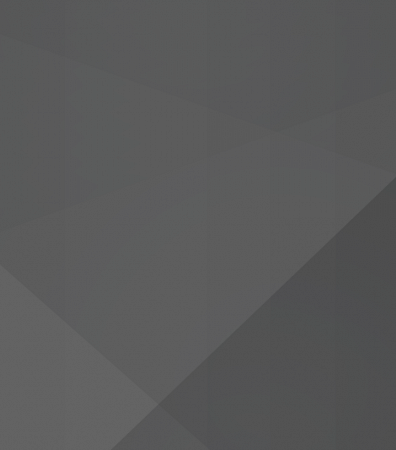 "Rob came to this work with an impressive background in collaborative landscape management. Rob's ability to think outside the box and his ability to fuse the talents of people from a wide array of science and land management backgrounds is particularly impressive."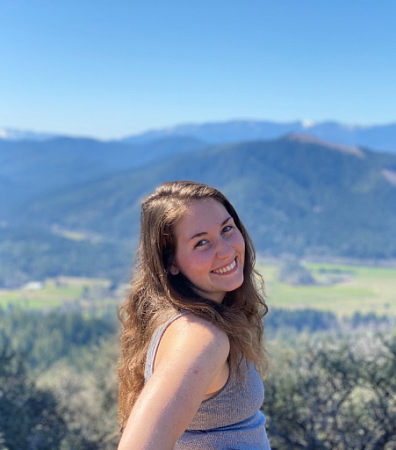 Sofia Baldridge
Public Planning, Policy and Management/Environmental Studies, Undergraduate 
Achievements:
Increased frequency of Produce Drops, serving over 1,000 students and their families
Created two new volunteer corps programs to support food security outreach on campus: Food Security Leaders and Food Security Ambassadors
Started online chat feature to offer remote SNAP enrollment assistance
Led multiple SNAP assistance trainings for students, faculty and staff, resulting in students receiving thousands of dollars in food benefits for groceries
From Sofia:
"Nothing is more rewarding than hearing a student talk about how much Produce Drops or SNAP means to them and/or how helpful the program has been for them and their households."
From the Nominators: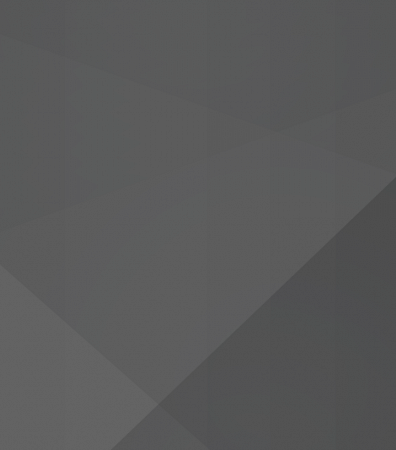 "When the pandemic hit, so much of our work at the university was about what can we pare down to meet our mission with the resources we have. Rather than reduce the food security programs when presented with the daunting task of navigating in-person interactions, Sofia developed three new programs and intensified a fourth."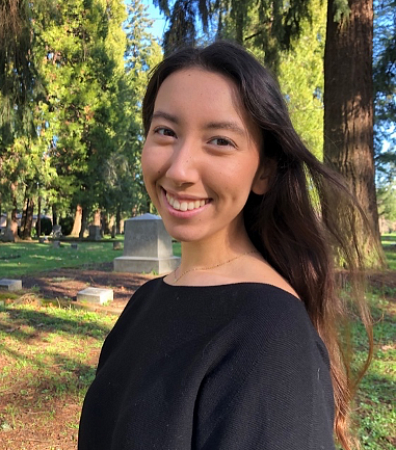 Juliáe Riva
General Social Sciences/Public Planning, Policy and Management, Undergraduate
Achievements:
Conducted research detailing sustainability services for the Oregon Environmental Council
Selected as one of sustainable business media outlet GreenBiz's 12 Emerging Leaders in the field of sustainable business
Served on the University of Oregon's Campus Planning Committee
From Juliáe: 
"Environmental sustainability touches every single industry and sector, and from plastic in oceans to tree equity, there is so much more for me to learn, and I cannot wait to put in the work and launch into a meaningful career."
From the Nominators: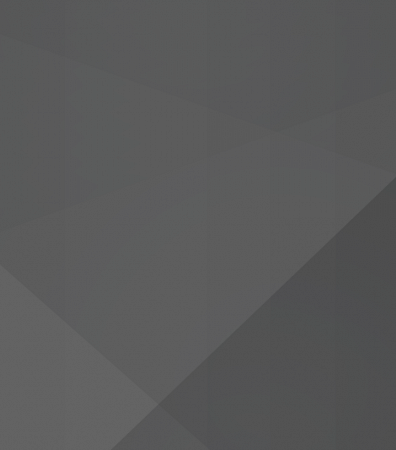 "Juliáe's activism on the Campus Planning Committee was neither convenient for, nor welcomed by, the staff who convene and manage that advisory body. Yet that's why her persistence has been so important. Speaking truth to power is rarely convenient and never comfortable, and her willingness to be that pesky voice is appreciated."
Read more about all the winners of the 2021 Campus Sustainability Awards.
To read about two professors in the College of Arts and Sciences who won, click here.