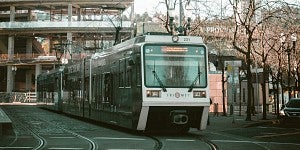 Sustainable City
Year Program
The Sustainable City Year Program (SCYP) matches University of Oregon students with an Oregon city, county, special district, tribe, or partnership of governments for an entire academic year. Students work on partner-identified projects through existing courses to provide ideas for real solutions to community challenges and sustainable development. Project areas include business, planning, architecture and/or landscape architecture design, community engagement, geography, public policy and management, and law.
360° of Positive Impacts
Outcomes for cities include the implementation of an original sustainability-boosting idea, the implementation of a project that deviates some from the original idea due to unforeseen adaptations or circumstances, and/or several other long term improvements to city management, such as new community and government agency relationships, streamlined workflows, and new perspectives on community issues that arise.
Students have the opportunity to get practical work experience, translate theory into practice, build client relationships in a professional setting, work as part of a collaborative team, develop communications skills, and see real life impacts of their efforts.
The SCYP would not be possible without the diverse and dedicated faculty who are deeply committed to community change and student outcomes.