Danny Pimentel
Assistant Professor of Immersive Psychology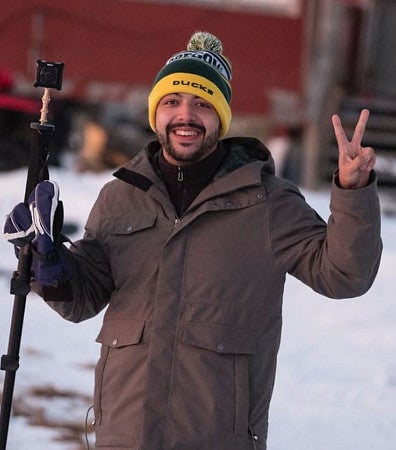 EI Faculty Fellows Program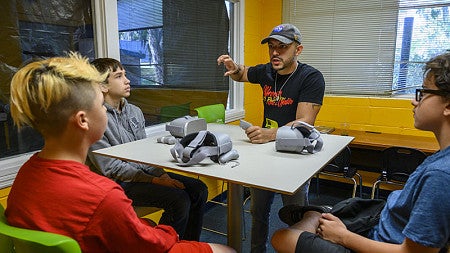 ​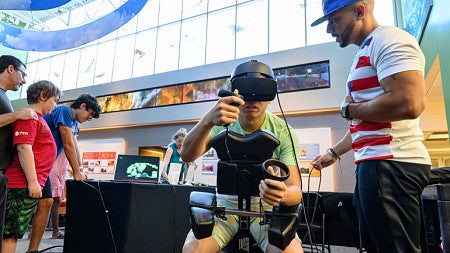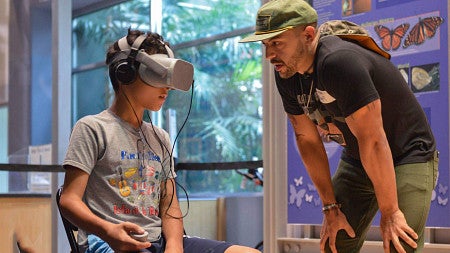 Meet Danny Pimentel
Perhaps it was in the stars that Danny Pimentel would come to the University of Oregon – or at least the virtual stars.
He has a picture of himself in Newtok, Alaska, where he recorded a virtual reality experience to document one of the first cases of climate change refugees in the United States. In the photo, he's wearing a UO beanie, years before he came to Oregon.
"Little did I know I would be working at UO about five years later!" said the assistant professor of immersive media psychology.
Pimentel is the new Environment Initiative Faculty Fellow for 2022-23. Climate change, sustainability, energy and decarbonization, water, indigenous sovereignty, environmental entrepreneurship, biodiversity, and social change through environmental education – these are just some of the areas that the UO's Environment Initiative explores in a cross-discipline dynamic, including eight colleges and more than 140 researchers.
His work in virtual reality (VR) seeks to make a global problem like climate change into something you can experience on a personal level. "I began to explore the intersection of media psychology and human-computer interaction, and I became fascinated by studies that explored how virtual reality experiences affect humans psychologically and emotionally. I then made it a point early on to focus on how individuals and organizations could use immersive experiences to enact social and environmental change."
Growing up in South Florida as the son of Colombian and Dominican immigrants, Pimentel has a deep connection to how climate change effects people on the local level.
"Climate change is a large, abstract concept with a global impact. Constantly visualizing this problem at such a large scale, while accurate, can be counterproductive. Climate grief is real! As someone from Miami, what many consider ground zero for sea level rise, I feel this all too much," he said. "I do wish people would understand that they can occasionally shift from a global to a local mindset with regards to climate change. This is where virtual reality simulations can be helpful. Instead of asking how we can stop this massive, looming threat, let's ask more concrete questions specific to our zones of influence. Our local communities are more malleable than regional, national, or global stages. So, ask questions like: How is climate change directly (or indirectly) impacting my community?"
One thing Pimentel is focused on in his work is not only connecting people to climate change stories but encouraging children to pursue science and become environmental problem-solvers themselves. "One of my earliest simulations centered around paleoclimatology. The experience transported middle school science students to Antarctica to extract and analyze ice cores alongside other virtual scientists from diverse backgrounds. Finding evidence that this experience shaped their interest in science careers, and self-perceptions as scientists, was incredibly exciting!"
Pimentel and Kelly Sutherland's Virtual Excursions for Science Learning (VESL) proposal was selected for a Research Awards for the first round of the Environment Initiative Seed Funding Program. The funding will kickstart research focused on immersive, VR learning experiences capable of increasing ocean science literacy, interest in STEM careers, and promote environmental attitudes among underrepresented learners.
VESL will be a fully functional VR simulation that enables users to embark on virtual excursions with diverse scientists and engage in marine biology and maritime archeology research. Pimentel, Sutherland and their research partners will test the efficacy of VESL on key outcomes (such as attitudes and views of science) among users in informal learning contexts (this includes places like museums). They hope the project will clarify the psychological mechanisms through which experiences like VESL influence human perceptions of self and science.
"We can leverage VR to address a very real issue in the fight against climate change: lack of diversity in the STEM workforce. Personally, I am excited at the possibility of using VR to allow students from diverse backgrounds, that otherwise do not see themselves represented in the scientific community, become virtual scientists in these virtual worlds. Through this embodiment, I believe we can change how kids view themselves," he said.
Pimentel's work is centered at the Oregon Reality Lab in Portland. The position was attractive to him because it allowed him to tap into both academia and industry in a creative way.
"I knew that I could not only collaborate with incredible scholars on meaningful research, but that I could also stay embedded in industry," he said. "I have the resources and support to create impactful content, and subsequently test its efficacy through experimental research. I can have my cake and eat it too, so to speak."
His work will keep him busy. Participants in Project Shell wear a virtual reality headset and take on the body of a loggerhead sea turtle, sporting flippers instead of arms. During a 15-minute immersive experience, they journey from a hatchling to an adult turtle, dodging hazards like ships and wayward fishing gear.
Participating in the simulation increased people's empathy and concern for environmental issues, new research shows. "Immersive storytelling has the potential to reduce the psychological distance between audiences and environmental issues that are far away in terms of space and time."