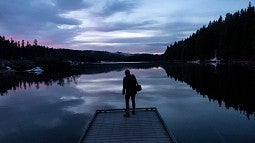 In Spring 2019, the Office of the Vice President for Research and Innovation (OVPRI) launched the Resilience Initiative to encourage faculty research across disciplines related to the environment and sustainability. This OVPRI-sponsored seed funding program supported a creative approach to transdisciplinary collaboration grounded in principles of ethical leadership and social and environmental justice.
Below is a list of UO investments in environmental research made possible by the OVPRI's program:
 

Grid Enhancing Resilient Housing
Principal Investigator: Kevin Van Den Wymelenberg (Architecture)
 Despite significant public interest and investment, housing demand vastly outstrips supply. Our transdisciplinary team is pursuing three primary avenues of addressing aspects of this problem.